"Content Marketing in Nigeria". When you hear these words, what comes to mind is marketing of content to Nigerian audience, right? Of course, that is what content marketing is all about. The problem now is how to go about it. It is also more than just email marketing
I recommend you pay a visit to this wikipedia link to learn more about what marketing is truly about.
Surely, when you hear content marketing, what comes to your mind is blog posts, twitter, social media in general, but content marketing is way deeper than that.
Content marketing goes beyond what the internet shows you. It goes beyond the scope of social media and also goes beyond using twitter tweets to market products.
Content marketing is more of story telling than advertising. Everybody loves a good story so why not use it in  advertising your products.
We all know about how amazing Glo adverts are. The story that builds up to the main product is always interesting. One can say GLO and airtel have the best content marketing strategies in the country.
You don't believe it? Check out this video ad from GLO
The video tells a story in a lighter mood so that people can relate easily. We all know how we want to make phone calls longer than they last.
The image below is one of the best content marketing samples in Nigeria. This is a perfectly written advert copy. To learn more about copywriting in Nigeria click here.
So you have seen awesome examples of content marketing. It is now time to learn how to apply them in your own business.
In content marketing, you need to entertain your audience, add value, explain and exploit your products benefits. The main aim of this is to attract an audience, make them want your products and also inspire them.
How can one do all that in one content? It is very possible.
When people hear the word "content", all that seems to come to their mind is text content. However, content is more than just texts – Content is anything ranging from videos to graphical content.
It may be infographics, pinterest banners, blog posts, presentation, and so on.
Content marketing has been existing since before the time of the internet because it about story telling. We have been telling stories since the beginning of the world and those stories don't end. The attention of the audience will always go to those with the best story telling ideas. Remember when MTN pulled one of the biggest stunts with the Afeez Oyetoro advert?
Let me joggle your memory a bit
Now, do you remember that video? That is another beautiful example of content marketing with a funny story in form of a song.
Content marketing is the reason why people like Prosper Noah and Awogor Matthew do so well. They have the best content marketing idea and this has helped them so well in practicing their affiliate marketing.
What is content Marketing?

There are many definitions of content marketing from different individuals and companies.
Content marketing is simply about adding value, educating, inspiring and entertaining a target audience through the creation and distribution of an array of relevant content with the aim of attaching, engaging and possibly influencing the thought process viz-a-viz the purchase decision of a prospective customer/client.
According to Neil Patel
Content marketing is a long-term strategy that focuses on building a strong relationship with your target audience by giving them high-quality content that is very relevant to them on a consistent basis.
According to Content Marketing Institute
 A technique of creating and distributing valuable relevant and consistent content to attract and acquire a clearly defined audience with the objective of driving profitable customer action.
I define content marketing as
Content marketing is a process of telling a story in order to attract, enlighten and sell a product or service.
#Trendzmedia... Content marketing is a process of telling a story in order to attract, enlighten and sell a product or service.
Click To Tweet
Content Marketing is very important for small businesses. It makes small businesses look even bigger than they are and helps to get more sales than it already gets.
When I think of content marketing, I think of value, relevance, consistence and honesty. In my post on how to do copywriting in Nigeria, you will see where I hammered on honesty.
Value
Every business needs to offer quality to their customers. The truth is your customers (especially Nigerians) love to feel like they are getting better value for their money.
They love to feel like the buyer has been cheated. This is the reason why you see people negotiating prices ridiculously and you get shocked.
So in your content marketing strategy, you need to include a bit of quality for people. Make them see value at a supposedly cheaper price.
In your quest to provide value at a cheaper price, make sure you don't do anything that will harm your business. Try to keep it within your power.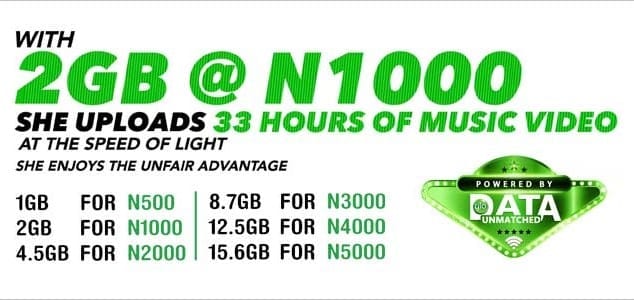 The image above is a beautiful example of providing quality and value. "Where is the quality" you might ask.
The texts:
"She Uploads 33 hours of music videos at the speed of light. She enjoys the unfair advantage"
She Uploads 33 hours of music video: GLO has done the best content marketing you can think of by actually showing you that somebody is cheating them. With the first line, they want you to know that you can actually upload 33 hours of video on your YouTube Channel or instagram page, but how true is that? You cannot know until you find out so they keep your curious enough to actually want to try it out.
At The Speed Of Light:  What is better than cheap data that allows you to upload 33 hours video? AMAZING DATA SPEED. The Speed is another anchor point that will keep you focused on trying out the product. many may have complained about the bad network GLO offers you, but what if they have adjusted it and you can now surf the internet at 50mbps on your 4G device?
She enjoys the unfair advantage: Now this is the killer point. The fact that the user enjoys the unfair advantage makes you want to try it. It certainly looks like you will be getting twice the product you paid for. Everybody loves awoof.
Relevance
Your content marketing strategy has to be relevant to your business. You cannot market an hair dryer product to bald people. Create a content strategy that is related to the product you are selling.
You should also put your audience age and location in  mind. This will help you market to them well.
Consistency
Perhaps, the toughest challenge in content marketing is consistency.
Should I call it a mistake or a challenge? A lot of small business owners find it difficult to keep up with their schedules.
Sure, it might seem too difficult but it is important for you to learn how to plan your time. Know when you will post on your instagram, twitter page, website or facebook page.
It is never easy to continue with a routine everyday, but in  content marketing you have no choice. You need to prove that you are relevant and remain in the minds of your audience.
Since content marketing is a long-term strategy, you should know that lying to your audience will only pose a serious threat to you in the future of your business.
There are some people who do advertising once and forget about it. That is way different from content marketing. In content marketing, you have to keep providing quality and relevance on a consistent basis.
#Contentmarketing In content marketing, you have to keep providing quality and relevance on a consistent basis.
Click To Tweet
If your content marketing is strong, people will eventually start purchasing your products before you can say jack. They like how you presented it, so they will also buy it. That is simply the whole summary of why you need content marketing.
Consistency in your content marketing also lets your customers know that you have them in mind and they are very important to you.
The entire universe is evolving but human mind remains the same. People want to feel loved. They want to be assured that you care about them. People want your attention.
With that being said, let us quickly look into the types of content marketing
TYPES OF CONTENT MARKETING IN NIGERIA
So many people think content is all about text, but content marketing is way beyond texts.
1. Blogging
I am pretty sure this is what most people refer to as content marketing meanwhile, blogging is only a type of content marketing. A blog is basically an online journal or information site that is updated on a regular basisi Many people confused a website for a blog, but they are both entirely different things.
A blog can be used as a business or for personal uses. Blogging is currently biggest form of content marketing in Nigeria.
Blogging also helps businesses to get customers. As a business, you need to let your customers know a whole lot more about your products.
Most times, the shop page or product page is not enough to display everything about your product. The product page only displays description of a particular products.
However, with blogging as your form of content marketing, you can let your customers know more about your products(s) in one post.
You can as well enlighten them on how to use a particular set of products. The blog is solely created to facilitate enlightenment.
One mistake, a lot of eCommerce websites have made is forgetting about their blog page.
If there is something I have learnt, it is that Nigerians (Africans in general) find it hard to trust anything that will take their  money from them.
You can use your blog to:
proove the legitimacy of your business
Showcase more products
explain how to use your products
explain how the product works
explain why they should buy the products
Blogging is a powerful type of content marketing in Nigeria and should not be ignored. If you cannot handle a blog yourself, you might as well hire a writer.
2. Video
Video content get more engagement than any other content. A video content gets a lot of engagement than most images, inforgaphics or text contents.
Do you know the best thing about videos? It is the fact that you can tell a story with motion and sound. You capture the attention of your audience easily with videos than texts or images.
There is a reason instagram comedians are earning a huge amount from brands who pay them for adverts. The popular instagram comedienne, Maraji once revealed that she charges vetween N500,000 to N1million for adverts.
You might be wondering; "Why will a company pay so much for adverts?"
Well, she is a social media influencer and she creates her own original content in order to put your brand out to her followers.
Apart from gaining the follower's trust, she will also get more engagements because it is a video advert and everybody loves to watch a video they can relate to.
Content is king, but video content is the real king.
#Contentmarketing Content is king, but video content is the real king.
Click To Tweet
3. Infographics
Infographics is another way to grab the attention of your audience. Split it into two words: Info and graphics. We can basically say an infographics is a graphical image meant to pass information.
In case you don't know, this is what an infographic looks like
You can build your own infographics from a site like canva.
When doing content marketing in Nigeria, infographics are sometimes ignores but there is also a huge part infographics play.
If there is something we have learnt about social media from the entire Nigerians, it is that Nigerians love to share anything they find amusing.
Anything can actually trend in this country and how awesome would it be to be part of then trendz.
Perhaps, the reason why inforgraphics are often ignored is due to the creativity needed in making one.
You cannot just open your canva app on your phone and start creating an infographic without having a mission at the back of your mind.
First, you need to know your aim. Take a few minutes to draft out the reason why you are doing this infographics. If you are doing it for kids, you know that you have to speak like a kid.
Secondly, be creative. Luckily, canva has some ready-made infographics for you to choose form so all you really have to do is select the one you want and edit the content to your taste.
Thirdly, don't talk too much. It is an infographics not a blog post. If you have to explain a point, keep it within three lines.
The main reason why I love infographics is the fact that it could reach anywhere without you trying too hard.
A good infographics will be screenshotted and reposted by those who can relate to it.
One thing we all know is the fact that people will happily repost anything they screenshot especially if it speaks to them.
So when creating your infographics, don't forget to add your website link at the footer of that infographics in order to encourage people to visit your website.
4. Ebooks
This is another effective form of content marketing. Write an ebook relating to something your brand or business does and sell or give it out for free.
The more people who have this book, the more eyes who have seen your brand.
Some ebooks are also used to make more sales for products. It is not about selling the ebook every time.
Sometimes, you may use a free ebook to sell another ebook.
So when you write a book, try to link it to some of your blog posts or products so people can easily shop by clicking a link.
Other types of content marketing are
Lead magnets
Whitepapers
Slideshare presentations
Quizzes/tools
Checklists
Courses
Webinars
Slide decks
Free apps
Social media posts
Here is a bonus from content marketing institute
How can content marketing boost your business?
Content marketing will help you solve a lot of problems in your business. Content marketing is the best approach to getting more customer engagements which is the most important thing in business. Everybody wants their customers to engage by buying products or referring people. With content marketing, you can achieve just that.
Here are some of the problems content marketing can solve in Nigeria
#1 SOLUTION: CONTENT MARKETING HELPS TO GET MORE ORGANIC SEARCH
One of the biggest mistakes Nigerian brands make is ignoring SEO. People won't be able to buy from you if they cannot find you. However, SEO will help you to solve this problem. When your website content ranks higher on search engines, people will see your business and tend to buy. In a study from Kuno Creative, 51% of content consumption is gotten from search traffic.
Why is search traffic important for business?
I will quickly take you through the basic model of how search traffic works.
You post your content
People who need a product search google
if your content appears on google front page, they will be interested in buying
Content marketing is a big way to build awareness.
It is not only about ranking on front page of any search engine, you can also use content marketing to get more social media engagements.
If people love your content, they will share on their various social media platforms and you get good publicity at no cost.
#2. SOLUTION: CONTENT MARKETING CREATES TRUST
Content marketing helps to put you ahead of your other competitors by making you their number one brand of preference over your competition.
You will also create a relationship with your customers or audience if your content ois entertaining or meets their needs.
#3. SOLUTION; CONTENT MARKETING PROVIDES VALUE
Another big deal about content marketing is that it provides value. Instead of selling to your customers, your content will help them solve a problem.
By the time you give your audience a valuable piece of information for free, they will eventually be willing to pay for the next one because they understand the value you bring to the table.
#4. SOLUTION: LOW COST PUBLICITY
Content marketing is the best way to get free publicity. People will be willing to share content that interest them and this will increase your brand's publicity.
It is important that you stop being too formal with your content. In an I read by copyblogger, I learnt that one of the best ways to write a perfect copy is by being informal. Relate with your audience like you are friends.
How to perform content marketing to boost your business
Content marketing is not a short term strategy. It is for brands that want to last long and stand the test of time. There is something in content marketing that a lot of people are too lazy to do and that is PATIENCE.
patience is not about how long you wait, but how well you behave while waiting.
Click To Tweet
In content marketing, you have to be patient and trust the process while following the correct process.
Below are some stages to building a GOOD CONTENT MARKETING FOUNDATION.
1. Understand your audience behavior
Before developing your content, you need to explore your audience persona. Understand the behavior of your audience. Put their challenges, questions, needs, and their content preference at the back of your mind.
A beautiful example is zikoko.com.
This is my favorite blog and i visit everyday to find new content. Their content are interesting and targetted at young Nigerians.
Zikoko uses listicles to promote brands and get more viewers.
This site understands what Nigerians are facing and use these stories to create amazing articles that just keep you glued to your phone.
2. Understand where your audience is coming from
By this, I man that you should pay attention to what your audience must have faced in the past.
Check out this ad by MTN below
We know Nigerian telecommunication companies have the best adverts in the country and they never run out of content.
This MTN advert understands that Nigerians have limited browsing plans, and the network speed is another issue.
In their content, they claim to have solved these two problems. So you can now get unlimited data plans and faster internet.
The advert would probably be a lot more different in a country like USA where there is very goo network coverage and data is not as expensive as it is here.
3. Create a plan
Like my secondary school teacher always said, "Always think outside the box". If you want to actually develop one of the best content, you need to be creative.
Creativity does not come from an empty and lazy mind. Explore other works, leverage more on your imagination than knowledge.
Imagination is more important than knowledge. For knowledge is limited, whereas imagination embraces the entire world, stimulating progress, giving birth to evolution
Click To Tweet
Einstein was right after all…imagination encircles the world. The best content you see are products of creative thinking. It is a fragment of someone's imagination brought to life.
Brainstorm with your team, plan how you will make use of your assets and try to try something new. Something that has never been done before.
Then you schedule your content so you know you are releasing them at the best time possible. In a blog post from hubspot, they revealed the best times to post on social media.
The best times to post on social media are different with every social network and what type of audience you want to engage with. Facebook and Twitter both see high engagement at 9 a.m., whereas one of the best times to post on Instagram is 5 p.m.. LinkedIn caters to B2B audiences, with an ideal posting time of 10 a.m. to 12 p.m. Pinterest sees high engagement as late as 4 a.m. With many businesses facing a growing global audience, varying time zones have become a growing concern, especially when it comes to the best times to post.
I don't know how true this is though, but it is hubspot…who wants to argue with them?
4. Develop your content
The next thing to do is to spend time developing your content. Don't be scared to spend a week producing your content. Some people write a blog post title several times before they finally find the best and most suitable one for their audience.
Remember the three R's of content marketing;
Reorganize: You can take an old content and reorganize it. Take your time to find the best one for your audience. As your reorganize, make sure you don't run out of context.
Rewrite: There are some contents you will write and will provide a high yield. you can rewrite that content to get a better result. If the content is old, engagement on it will start to drop so you need to rewrite it and keep it fresh.
Retire: If a content is old and no longer useful, it is good to retire it. By retire, I mean you can forget about it or cancel that content. You can delete it or stop ads from running or else it might damage your brand identity.
5. Expose it to the world: You have spent all your time creating your content, the best and only thing to do now is to launch that content.
Some people think content marketing in Nigeria is dead, but I will tell you it is the best way to get better yields and to grow your brand in the future.